New Ford F-150 Price Hike, E-Turbo Ferraris, Dodge Viper Power Bump - Fast Lane Daily, A lot in today's episode! The all new 2015 Ford F150 has lost a bunch of weight, but you're going to come out of pocket a little more, the 2015 Viper which is now going back to being called the Dodge Viper, will get a VERY slight power bump, and Ferrari wants to use some electric turbos. Plus, Infiniti has a Porsche Panamera rival on the way (among other things), Scion kills off the xB, and it's Friendsday Wednesday! That and more all today on Fast Lane Daily, hosted by Derek D!
Guy riding motorcycle sitting sideways:
http://youtu.be/Tp8O5suerjU
FLD Twitter:
http://bit.ly/14WmK60
FLD Facebook:
http://on.fb.me/120yqjQ
FLD on Instagram:
http://bit.ly/10Yl3oa
Derek D Twitter:
http://www.twitter.com/theDerekD
Have a tip? Email us:
tips@fastlanedaily.com
Get the FastLaneDaily Podcast on iTunes:
http://itunes.apple.com/us/podcast/fast-lane-daily/id525614536.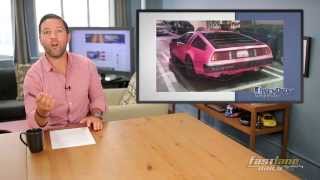 New Ford F-150 Price Hike, E-Turbo Ferraris, Dodge Viper Power Bump - Fast Lane Daily
Download Video