Ford Escape 6F35 Transmission LH Axle Seal Leak Repair, In this video I demonstrate the procedure to fix that leaky left hand axle seal once and for all.
Mercon LV Fluid ONLY!
Axle Repair Kit- AL8Z-3B414-B
Tools to borrow from Dealer
Bushing Remover- 308-070
Bushing Installer- 307-664
Axle Seal Installer- 307-626
Torque Specs-
Axle Nut 222 ft lbs
Strut Bolts- 85 ft lbs
Brake Caliper Bracket Bolts- 130 ft lbs
Lug Nuts- 100 ft lbs
Drain Plug- 106 in lbs.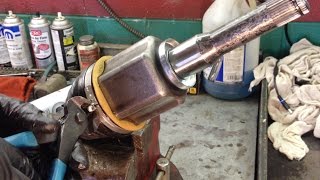 Ford Escape 6F35 Transmission LH Axle Seal Leak Repair
Download Video