2010 F-150 Amplifier Installation Part One, Video showing how to install the amp behind the back seats.
And where to run the power wire to the battery.
I also ran the remote wire to the head unit as well here.
Materials Used:
Panel Removal Kit
3/8 Galvanized Rod - (2x) 3 Pieces
3/8 Nuts&Washers
1/2 MDF 32 x16 With Notch Cut
Kicker ZX700.5 5 Channel Amplifier
Kicker CK44 4-Channel Amp Install Kit
Any Questions, Post In The Comment Section Below.
For now I have only ran the Power and remote wires. When it is warm again here I will do the opposite side of the truck and post a part two on how to run the speaker wires to the head unit.
**Side Note: The Back of the 1/2 MDF Board has a recessed area behind each 3/8 Nut to allow the board to go completely flush with the truck body. I forgot to mention in the audio.
Thanks for watching!.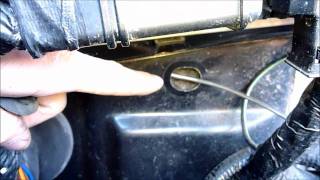 2010 F-150 Amplifier Installation Part One
Download Video