1997 Ford F150 Reg. Cab Short Bed 4WD - for sale in Washingt, D and B Auto Sales LLC
62356 Van Dyke Ave
in Washington Township, MI 48094
Come test drive this 1997 Ford F150 Reg. Cab Short Bed 4WD for sale in Washington Township, MI.
http://dbautosalesllc.com
THIS IS A GREAT VEHICLE. IT IS IN GREAT SHAPE. THE MILES ARE TRUE AND ACCURATE.. A REALLY MUST SEE. AUTOMATIC 4WD STANDARD CAB, GRAY BUCKET SEATS, ALLOY WHEELS, BUG SHIELD, AND CHROME FRONT BUMPER. SCHEDULE A TEST DRIVE AT D AND B AUTO SALES. GET A GREAT VEHICLE AND AN AFFORDABLE PRICE.
view all of our vehicles at www.dbautosalesllc.com
586 281 6925
OPEN
MONDAY - FRIDAY 9AM - 5PM
SATURDAY 10AM - 3PM
Option List:4WD/AWD,ABS Brakes,Anti-Brake System: 2-Wheel ABS,Body Style: REGULAR CAB PICKUP 2-DR,Cargo Length: 78.80 in.,Curb Weight-automatic: 4235 lbs,Curb Weight-manual: 4271 lbs,Depth: 20.00 in.,Driver Airbag,Front Brake Type: Disc,Front Headroom: 40.80 in.,Front Hip Room: 61.30 in.,Front Legroom: 40.90 in.,Front Shoulder Room: 63.80 in.,Front Spring Type: Torsion Bar,Front Suspension: Ind,Fuel Economy-city: 13 - 16 miles/gallon,Fuel Economy-highway: 17 - 20 miles/gallon,Full Size Spare Tire,Ground Clearance: 7.30 in.,Maximum GVWR: 6250 lbs,Maximum Payload: 1765 lbs,Maximum Towing: 7800 lbs,Optional Seating: 2,Overall Height: 75.40 in.,Overall Length: 203.70 in.,Overall Width: 79.50 in.,Passenger Airbag,Rear Brake Type: Drum,Rear Spring Type: Leaf,Rear Suspension: Live,Standard GVWR: 6000 lbs,Standard Payload: 1765 lbs,Standard Seating: 3,Standard Towing: 1900 lbs,Steering Type: Recirc,Tank: 24.50 gallon,Tires: 235/70R16,Turning Diameter: 40.45 in.,Wheelbase: 120.20 in.,Width at Wall: 65.20 in.,Width at Wheelwell: 50.00 in.
Provided by Carsforsale.com
http://video.carsforsale.com/vehiclevideo.aspx?vid=220024184.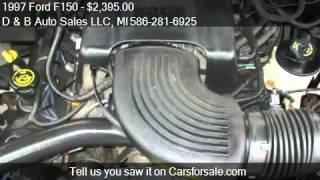 1997 Ford F150 Reg. Cab Short Bed 4WD - for sale in Washingt
Download Video