Ford Fusion 6F35 Transmission LH Axle Seal Leak Repair, In this video I go over the procedure to fix the axle seal leak issue all too common on these transmissions.
Trans Fluid- Mercon LV NOTHING ELSE!
Torque Specs-
Upper A Arm Nut-35 ft lbs
Axle Nut- 185 ft lbs
Strut Support Upper Pinch Bolt- 35 ft lbs
Strut Support Lower Pinch Bolt- 76 ft lbs
Caliper Bracket Bolts (15mm Bolts)- 66ft lbs
Wheel Lug Nuts- 100 ft lbs.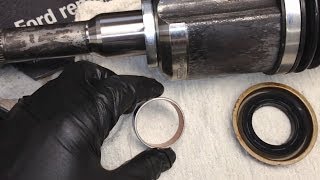 Ford Fusion 6F35 Transmission LH Axle Seal Leak Repair
Download Video