Ford Bronco spindle bearings and seals replacement part 1, Replacing the spindle bearings and seals on a 1994 bronco.
Applies to:
1994-1996 broncos and 4X4 F150s
Similar:
1980-1993 Broncos and 4X4 F150s & F250s
These models are similar but use two spindle nuts and a locking spacer instead of one locking nut.
tags: spindle bearing and seals part 1 f150 f250 f350 ford fullsize 4x4 4wd spindle bearing nut locknut wheel bearing f 150 f 250 f 350 f-150 f-250 f-350 4 wheel drive ttb twin traction beam dana 44.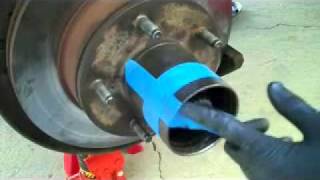 Ford Bronco spindle bearings and seals replacement part 1
Download Video