2006 Ford F150 STX - for sale in Brookside Village, TX 77581, Autoway of Texas LLC
6530 Brookside Rd
in Brookside Village, TX 77581
Come test dirve this 2006 Ford F150 STX for sale in Brookside Village, TX.
http://www.autowaytexas.com
$7500 CASH THIS WEEKEND ONLY ...CALL DAVID 281-412-4588 There are no electrical problems with this vehicle. There are no defects present on this vehicle. There are some minor dings and scratches on this vehicle. There is a properly functioning engine in this vehicle. The exterior has been well maintained and is in good condition. A non-smoker owned vehicle. This automobile has a clean interior. The mileage represented on this vehicle is the actual current mileage. Great, smooth shifting transmission. Please notice the collision damage reflected in the photographs of this vehicle. There is 75% tread life left on the tires.
|4 Door|Long Box|2 Wheel Drive|Automatic w/overdrive Transmission|Rear Wheel Drive|Air Conditioning|Power Steering|Tilt Steering|AM/FM Radio|Daytime Running Lights|Information Center|Antilock Brakes|Driver Air Bag|Passenger Air Bag|
Provided by Carsforsale.com
http://video.carsforsale.com/vehiclevideo.aspx?vid=159116807.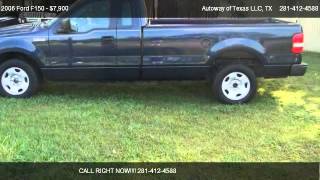 2006 Ford F150 STX - for sale in Brookside Village, TX 77581
Download Video