WiFi A/V Adaptor for iPod/iPhone/Android, The WVI allows you to WIRELESSLY interface your Android or Apple device (see compatible device list below) via WiFi with any radio, rear entertainment system or TV that has RCA A/V inputs, allowing display and audio playback of any app or video from the phone or tablet device!
• Most cost-effective way of adding another source to almost any car stereo or rear entertainment system
• Stream movies and music
• Play games
• Use any app that displays on your device
• Includes WiFi receiver that allows wireless connection to Android or Apple devices - NO WIRES REQUIRED!
DEVICE COMPATIBILITY
iOS System Devices
iPhone 4S - Up / iPad 2 - Up / iPad Mini - Up / iPod Touch (5th Gen)
Android System Devices
Samsung: Note2/Note3/Note10.1/S3/S4
LG: F/180L/200L/180S/180K/200S/200K/LS970/GL-01E/E975T
HTC: OneX/OneS/ButterFly S
Google: Nexus 4.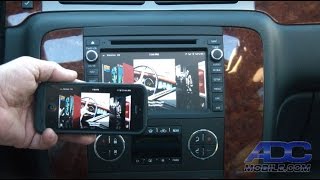 WiFi A/V Adaptor for iPod/iPhone/Android
Download Video