LIBERTY / TEXAS GAME WARDEN FORD F-150, Music By Sefa Ulker - Exordium - http://www.youtube.com/watch?v=1U2-FjKeT0E
VERSION F150-V1.6X-TPW ELS
- SPECIAL MODEL ELS
- LIGHTBAR N/A
- EXTRA PARTS N/A
- LIVERIES 4
- OPTIMIZED FOR Police Patriot
- CREDITS gfxle (see notes)
- MOD STATUS Closed
NOTES
- Make sure to read the readme.txt!
- Model is a Ford F-150 made by UBISOFT Reflections, ripped and converted by Policefanatic
- This version of the model has been modified by gfxle
- Rambar made by unknown author, edited by gfxle; Wrap around part by Bxbugs123
- Tool box, cab guard, spotlights and other police equipment made by gfxle
- Main textures made by gfxle
- Main body (color 1) can be changed in-game or via the carcols.dat file
- The spotlights can be turned on with the Taxi lights function of a trainer with ELS on.
FILES INCLUDED
- polpatriot.wft
- polpatriot.wtd
LIBERTY / TEXAS GAME WARDEN FORD F-150: http://gtapolicemods.com/downloads.ph....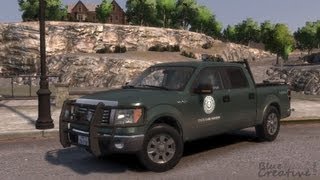 LIBERTY / TEXAS GAME WARDEN FORD F-150
Download Video