2010 Ford F-150 AWD SuperCrew Harley-Davidson Used Truck at Sherwood Park Toyota Scion, This is a 2010 Ford F-150 AWD SuperCrew 145" Harley-Davidson 4 Door Pickup Four Wheel Drive with 6-Speed A/T transmission Black[Tuxedo Black] color and Black interior color. This video is recorded and uploaded by cDemo Mobile Inspector. Detailed vehicle info with more photo(s) is available at http://live.cdemo.com/brochure/idZ20121219gscuefis.
Stock #: 3TU3763A
Life is full of choices let us be yours at http://www.facbook.com/sptoyota or at http://www.sptoyota.com
Contact us at 1-888-419-8955.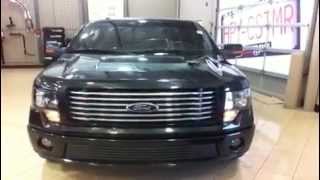 2010 Ford F-150 AWD SuperCrew Harley-Davidson Used Truck at Sherwood Park Toyota Scion
Download Video