2001 Ford Explorer Sport Base - for sale in Appleton, WI 54913, M & G Automotive LLC
5000 Greenville Dr
in Appleton, WI 54913
Come test dirve this 2001 Ford Explorer Sport Base for sale in Appleton, WI.
http://www.mandgautomotive.com
The electronic components on this vehicle are in working order. This vehicle has no defects. This vehicles engine is in perfect working condition. Overall, this vehicles exterior is clean. This vehicles interior is clean. The odometer reflects accurate mileage. The transmission in this vehicle still shifts smoothly. No repaired collision damage. Purchase this vehicle at a great deal as a subsequent owner. Truck also has two new tires, axle seals, belt, battery, parking brake shoes, wheel bearing and a fresh oil change. Reliable winter ready 4x4.
|2 Door|4 Wheel Drive|Automatic w/overdrive Transmission|New Tires|Bucket Seats|Center Console|Power Mirrors|Power Seats|Power Steering|Rear Defrost|Tilt Steering|Antilock Brakes|Driver Air Bag|Passenger Air Bag|
Provided by Carsforsale.com
http://video.carsforsale.com/vehiclevideo.aspx?vid=144403455.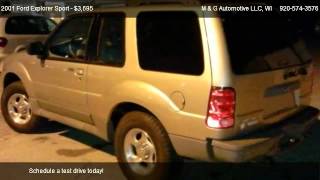 2001 Ford Explorer Sport Base - for sale in Appleton, WI 54913
Download Video