Pro Spot Selected As Ford Motor Company 2014 Supplier Of The Year, Pro Spot is very proud to announce being awarded SUPPLIER OF THE YEAR by the Ford Motor Company Rotunda Program. Pro Spot is approved by Ford to supply aluminum repair equipment to the Collision Repair Program for repairs on the new 2015 Ford F-150 all-aluminum body truck.
The approved equipment included: Pro Spot's SP Pulse MIG welders- the most sold Ford-required MIG welders in North America, Aluminum Dent Repair Stations, Fume Extractors, and the SPR Riveter; all of which contributed to winning the Supplier of the Year award.
"We would like to thank the customers that have supported us in purchasing our aluminum repair products. This means a lot to our hard-working team at Pro Spot," says Ron Olsson, Pro Spot President, "I'm overwhelmed and honored to win this award from Ford. We appreciate the trust in our equipment and of course, the overwhelming amount of orders we have received for the aluminum program."
The 2015 F-150 is revolutionizing the repair industry by mainstreaming aluminum repair. Pro Spot looks forward to continuing to design innovative equipment for shops and technicians to repair vehicles back to OE standards.
Ron Olsson with Pro Spot at SEMA and we're just wrapping up the show we're very excited to announce that we were awarded the Supplier of the Year with Ford. We're very very thankful for that. We're wrapping up an incredible year now with aluminum Ford F 150 coming to the market and supplying all the aluminum products into that program with the aluminum weld station are MIG welders together with the Riveter that we have supply for the Ford program. We're excited to be here and again very humble very thankful for the award from Ford and thank you very much. We'll see you next time..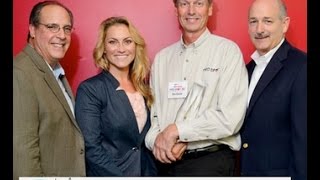 Pro Spot Selected As Ford Motor Company 2014 Supplier Of The Year
Download Video